Published on October 20, 2021
The Phelps Health Comprehensive Breast Center has new technology to better detect and take samples of breast abnormalities in a less invasive way than traditional surgical techniques.
The Hologic Affirm 3D Stereotactic Biopsy Unit uses mammography – a type of breast imaging that uses low-dose X-rays – to help find breast irregularities and remove tissue samples for microscopic testing.
"The stereotactic biopsy machine allows us to get a tissue diagnosis on women who have mammographically-detected lesions or areas of interest," said Bruce Hedgepeth, MD, a radiologist with Washington University Physicians who specializes in breast imaging.
Phelps Health partners with Mallinckrodt Institute of Radiology, based at Washington University School of Medicine in St. Louis, to provide radiology services to patients in south-central Missouri.
"With this machine, [we can] take areas of interest that we find on the conventional mammogram, or even ultrasound images, and utilize this machine to biopsy the target and to find out if it is breast cancer or not," Dr. Hedgepeth said.
The stereotactic biopsy machine can be used for women with any type of lesion or abnormal tissue.
"This machine does have the 3D capability to see through the breast and to see with depth at small half-millimeter increments," he said. "Before, we just had one way of taking the picture."
Dr. Hedgepeth noted that this unit allows radiologists and Comprehensive Breast Center staff to expand the evaluation of the types and complexity of lesions found in patients.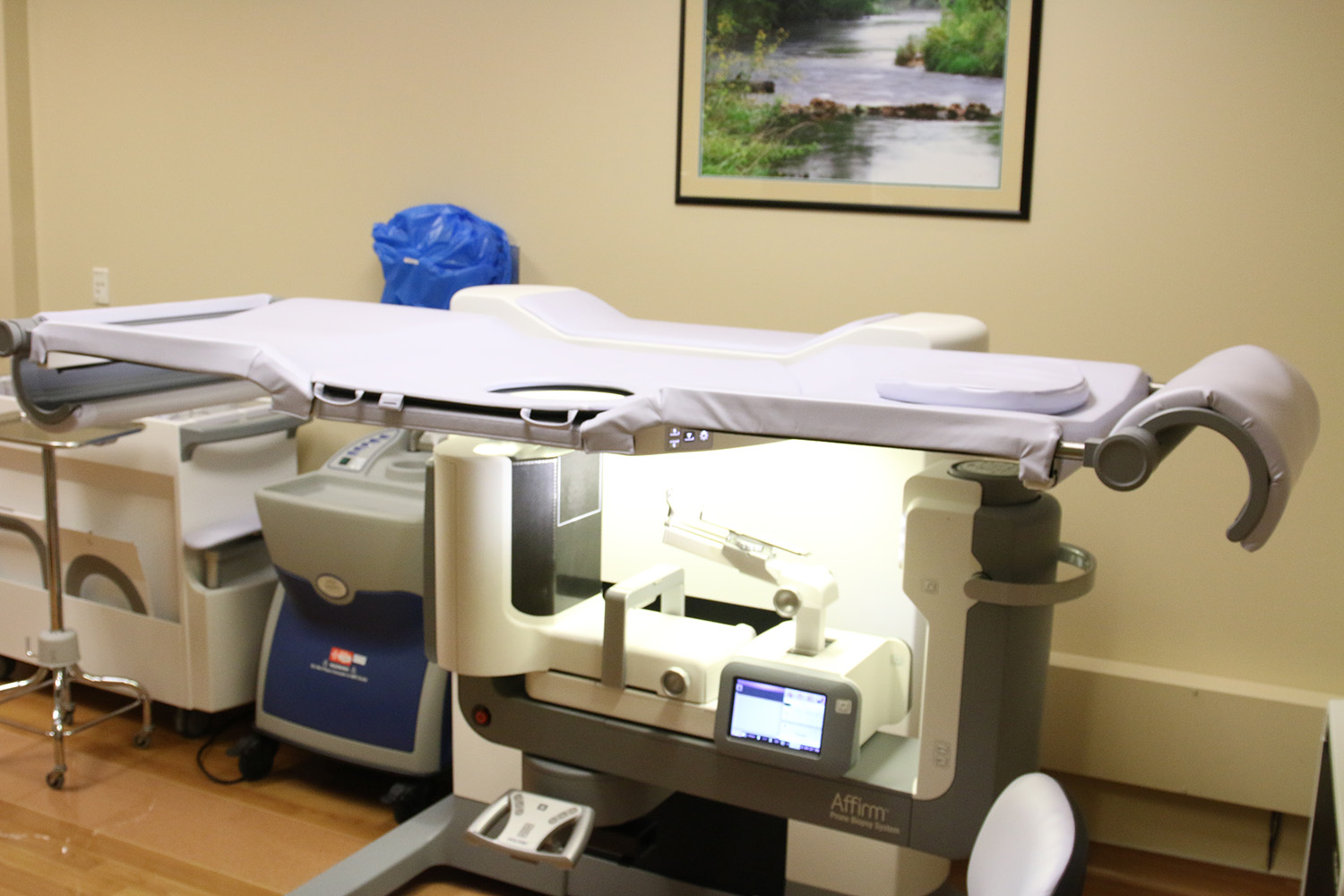 What Patients Can Expect
During a stereotactic biopsy procedure, a patient lays face down on top of a padded table. The patient's breast hangs down through a hole in the table and is compressed between two plates to hold the breast in place.
The stereotactic biopsy unit can produce images of the same area from different angles. These images help determine the exact location for the biopsy. Using a needle, the targeted sample of the breast tissue is removed.
According to Julie McCray, RT, a mammography technologist with the Comprehensive Breast Center, these procedures typically take about 30 minutes to one hour.
Before the biopsy, patients can watch an informational video, explaining the procedure.
Thanks to Auxiliary
The stereotactic biopsy machine was purchased thanks to a $282,302 donation from the Phelps Health Auxiliary and Volunteer Services.
For Carolyn Tilford, president of the Auxiliary Board of Directors, this new machine has a special meaning to her. In 2020, she was diagnosed with an early stage of breast cancer. She underwent a mastectomy to remove the cancer, and now, she follows up with her cancer care team every three months.
"I am quite grateful that the Auxiliary was able to purchase this stereotactic biopsy equipment," Tilford said. "The Auxiliary is proud to be able to give back to an organization that has helped people like me."
Tiffany Henry, RN, Comprehensive Breast Center coordinator, said she is appreciative and thankful for this gift from the Auxiliary.
"Without them [Auxiliary], we likely would not have been able to buy such advanced technology," she said. "This unit is going to be really beneficial to women in our area."
Learn More
Phelps Health prides itself on the warm, compassionate and talented providers in the Comprehensive Breast Center who ensure each patient is comfortable and well-informed during her visit.