Published on October 14, 2019
Phelps Health is committed to serving patients in their communities, and that is why the new Phelps Health Medical Group Salem facility is so beneficial to the residents of Salem, Missouri, and surrounding areas.
The Phelps Health Medical Group Salem clinic moved to its new location at 1415 West Scenic Rivers Boulevard in Salem and opened on August 5, 2019. A grand opening celebration for the new building took place on September 12, 2019.
The new facility is about 7,500 square feet in size, which is approximately 3,000 square feet larger than the former Phelps Health clinic in Salem. The new clinic has 16 exam rooms, compared to seven at the old site, and a room for small procedures.
"The new Phelps Health Medical Group Salem clinic represents a commitment by Phelps Health to continue providing excellent care to Dent County communities and beyond," said Phelps Health Senior Vice President and Chief Operating Officer Jason Shenefield.
Phelps Health has had a presence in Salem since 2012, when now retired Dr. Charles Cunningham incorporated his family practice into the Phelps Health Medical Group.
Over time, though, Phelps Health outgrew its old clinic, and the need for a new, larger clinic was identified as a priority.
"We wanted a location that is more visible and has easier access," Shenefield said, so a location on the west end of Salem was found. "As with all of our clinics, we aim to provide a high-quality care facility."
Whereas Phelps Health was renting space at the former clinic, Phelps Health owns the new clinic.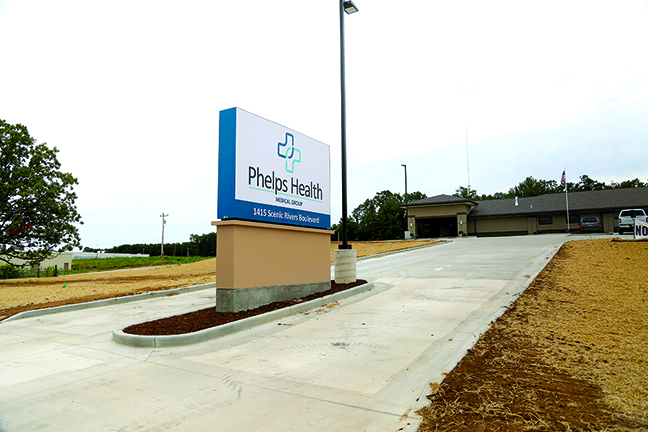 The new building would not have been possible without the Phelps Health Foundation identifying a funding opportunity through the United States Department of Agriculture (USDA). Phelps Health received a grant of nearly $1 million through the USDA's Delta Health Care Services Grant Program to help offset the approximate $3 million cost of the facility.
Earthwork began on the new site in the late summer of 2018, with a groundbreaking ceremony held August 27, 2018.
McCarthy served as the general contractor on the Salem clinic project. Phelps Health has partnered with McCarthy on several other construction projects, including the Delbert Day Cancer Institute in Rolla, Missouri, and the Waynesville Medical Plaza in Waynesville, Missouri.
Building a bigger and more modern clinic has helped improve workflow and increased the ability to see and care for more patients, said Family Nurse Practitioner (FNP) Barbie Fulton, who has practiced in Salem with Phelps Health for about five years.
Fulton, along with Miriam Stricklan, FNP, Jimmy Bell, FNP, and Matthew Hurley, MD, currently see patients at Phelps Health Medical Group Salem.
The new building provides the space for three full-time primary care providers to practice as well as allows room for rotating specialists to practice in the community in the future, said Phelps Health President and CEO Ed Clayton.
In addition, this new facility provides medical students the chance to rotate through and work with Phelps Health providers in Salem.
As with the former clinic, the new Phelps Health Medical Group Salem facility offers family medicine care for all ages in addition to well-women exams, well-child exams, general wellness physicals, sports physicals and annual exams.
"This new clinic allows us to continue offering all of these great services to the community as well as other opportunities," Fulton said.
The new Phelps Health Medical Group Salem facility offers walk-in and same-day or next-day appointments. While the clinic has moved, the clinic's phone number – (573) 729-5533 – has remained the same.