Published on March 17, 2022
For James "Jim" Pettit and Kathy Ohmann, volunteering is a way to stay connected to their community.
Jim and Kathy began volunteering at Phelps Health in 2016. After retiring, the couple decided they wanted to find a way to stay active and give back to their community.
As volunteers, Jim and Kathy have worked in several departments throughout Phelps Health and have assisted with special events like shoe and Christmas sales. Their real passion, however, is helping out in the Repeat Boutique.
Operated by the Phelps Health Auxiliary and Volunteer Services Department, the Repeat Boutique is a resale shop located on the ground floor near the North Entrance of Phelps Health Hospital.
The Repeat Boutique is open to staff and community members Monday through Thursday from 10:00 AM to 4:00 PM and Friday from 10:00 AM to 2:00 PM. Proceeds from the resale shop are used to support the Auxiliary.
"When I was in the Army, my job was to organize budgets, units and people," said Kathy, who retired as a lieutenant colonel. "My job at the Repeat Boutique just fits."
In the Repeat Boutique, Kathy sorts through donated items such as shoes, clothing and home goods. She said she likes organizing items so that everyone who visits can enjoy shopping in the resale boutique.
"While giving back to our community has been a rewarding experience on its own, volunteering at Phelps Health also has given us new friends," Jim and Kathy shared.
"We work on Tuesdays and now have regulars that come in to visit with us and shop a little. It's great to hear updates about their work, families and whatever else is going on in their lives."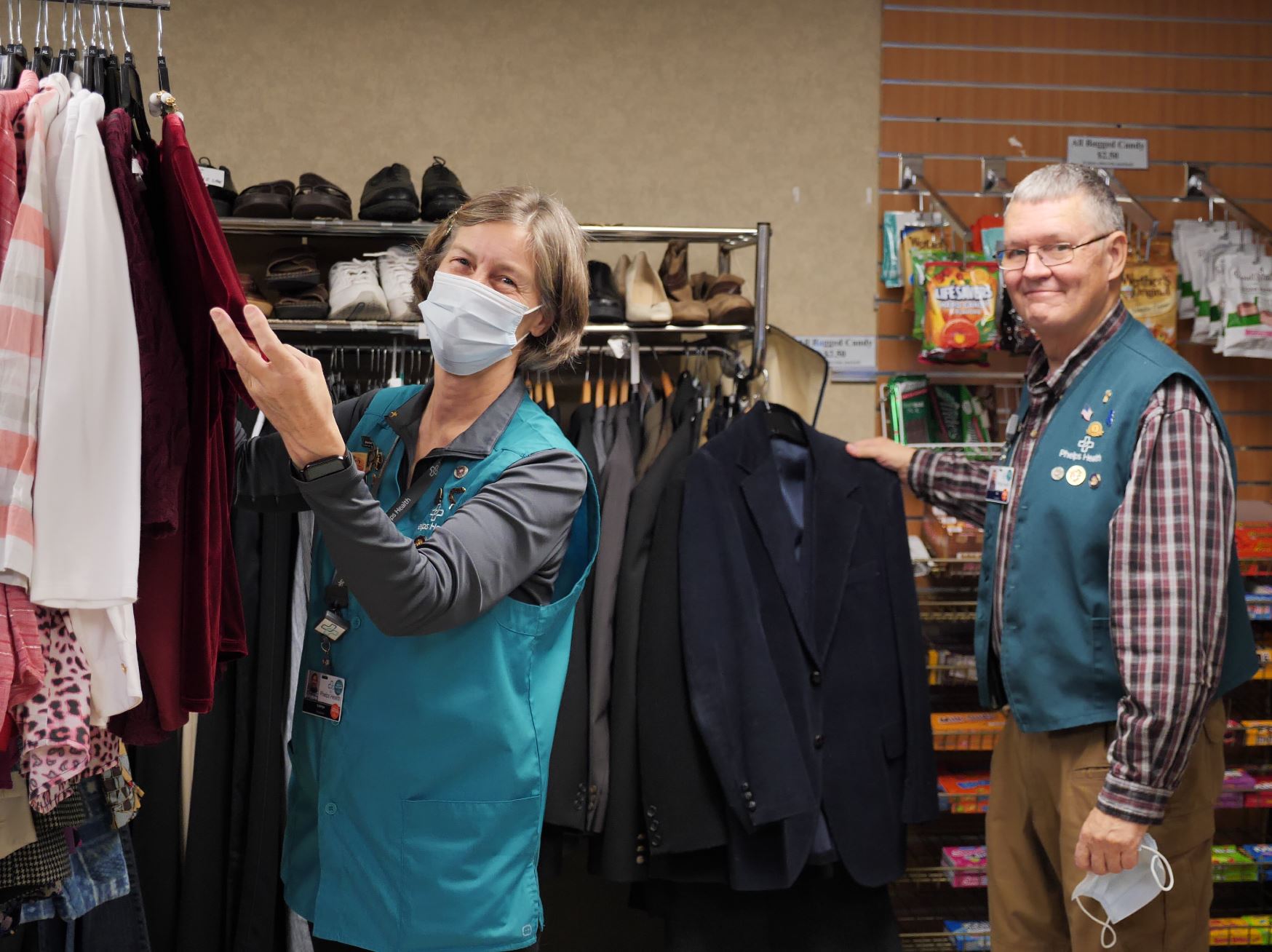 Family Tradition of Volunteering Lives On
Jim said that he was inspired to give back to his community by his late father, who volunteered at Miami Valley Hospital in Dayton, Ohio.
"It's an amazing feeling to volunteer at the hospital," said Jim. "Everyone is friendly. It [Phelps Health] is a family environment that is comfortable."
Jim, who retired and began volunteering three months before Kathy, recommends that everyone find a way to volunteer in their community.
"You can work in a lot of different departments at Phelps Health as a volunteer," he said. "The free lunch is a great perk, but I really enjoy getting the opportunity to serve and meet so many different people."
When not volunteering, Jim and Kathy work on their family farm south of Rolla and spend time with their horses, dogs and chickens.