Published on April 4, 2023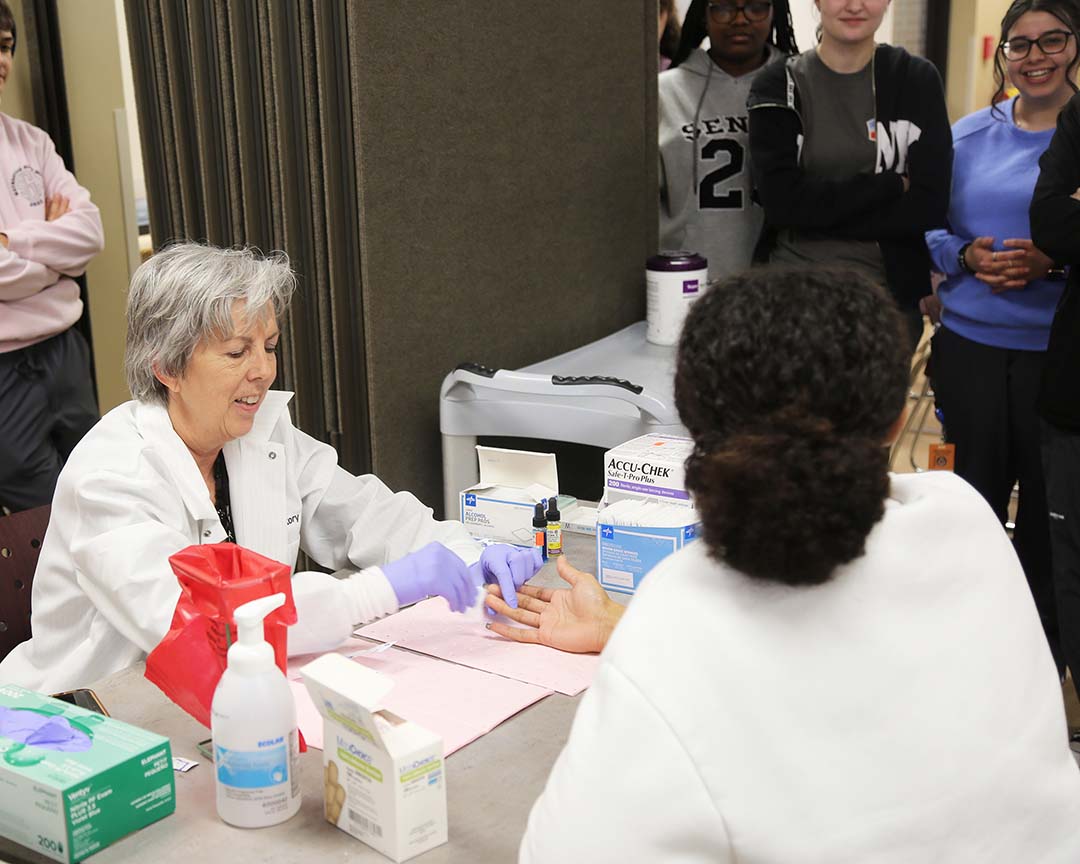 Read Time: 2 Minutes
Twenty-one students from Rolla and Waynesville High Schools attended a Mid-Missouri Area Health Education Centers (Mid-MO AHEC) workshop on March 22 at Phelps Health.
The students came from Waynesville High School's Way Med program and Rolla High School's senior Bio Med class. They spent 3 hours job shadowing in 15 different Phelps Health departments. The afternoon's agenda included workshops and demos led by Phelps Health staff.
"Laboratory Director Christine Richards gave an overview of the lab and taught a workshop about lab procedures and jobs," said Susan Bowles, Mid-MO AHEC Health Careers and Scholars coordinator. 
"Christine and Stephanie Jackson [specimen processing supervisor for the lab] then led the students in two hands-on activities. The teens learned how to type blood, had the chance to discover their own blood type and saw a demonstration on phlebotomy, [where a needle is used to take blood from a vein, usually for lab testing.] Students also had the opportunity to draw blood from a teaching manikin," Susan said.
The high school students also learned about health literacy, the ability to find, understand and use information and services to make informed health decisions. To assess their own health literacy, the students completed a test involving an ice cream label.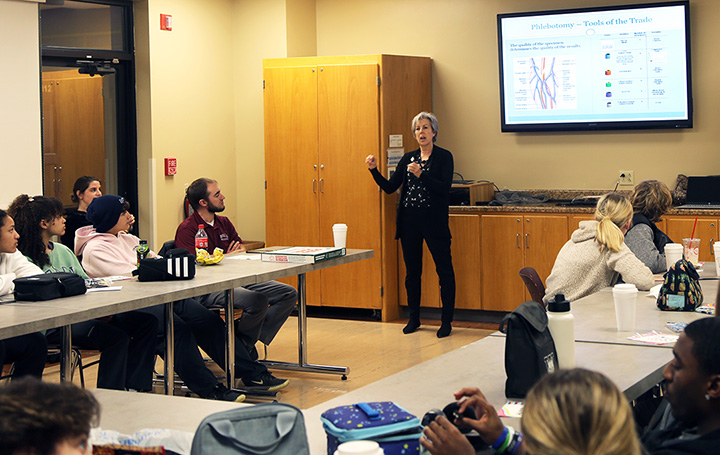 "It was a very educational and worthwhile experience, getting to learn with a hands-on activity," said Waynesville High School student Aaron about the AHEC workshop.
"I thought the PET scans were cool!" said Kayleigh, a Rolla High School senior. "I think I am going to go toward oncology now."
These student workshops are a part of the AHEC Pipeline Program, which is designed for high school and college students with an interest in health careers.
Students explore health careers through a variety of opportunities and experiences. The goal of the program is to have students accepted into an educational program, graduate and ultimately work in the healthcare industry.
Mid-MO AHEC covers 23 counties in mid-Missouri. All schools within this region are invited to participate in programs, either in-person or via Zoom.
After attending the workshop, Susan had this advice for interested students.
"I recommend they continue job shadowing in different areas until they find a career they are interested in," she said. "At that time, we suggest more targeted job shadowing in their chosen field. We can take them on a college visit or connect them with a variety of programs to see what best fits them. We also have a summer camp here at Phelps Health that is helpful when selecting a career in healthcare."
About Mid-MO AHEC
Mid-MO AHEC was founded to give students opportunities to explore and experience healthcare careers. To learn more, interested schools, parents and students are encouraged to call (573) 458-7281 or visit www.midmoahec.org.