Published on August 24, 2020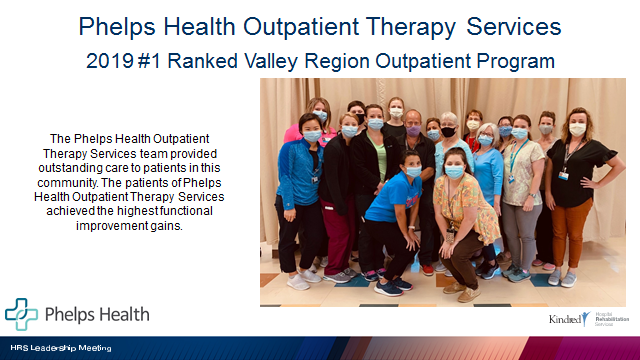 Congratulations to Phelps Health Outpatient Therapy Services for being recognized as the 2019 #1 Ranked Valley Region Outpatient Therapy Services by Kindred. The honor was announced during a virtual awards ceremony. Below is what judges had to say about Phelps Health Outpatient Therapy Services:
"What sticks out to me the most about the outpatient program at Phelps Health, made up of clinics in Rolla as well as nearby Waynesville, is the team cohesiveness and comradery. These team dynamics and patient-centered focus are fostered and honed by the facilities' Executive Director Amy Robnett. Amy took on her expanded role with added outpatient responsibility in 2019, during a period of great change. She not only led the program to exceed budgetary expectations but also developed additional programming to support the needs of the community. Amy leads with emotional intelligence at the forefront. She is solutions-based, is steady under pressure, and lives the core values each and every day."
Click here for more information about outpatient therapy services at Phelps Health.