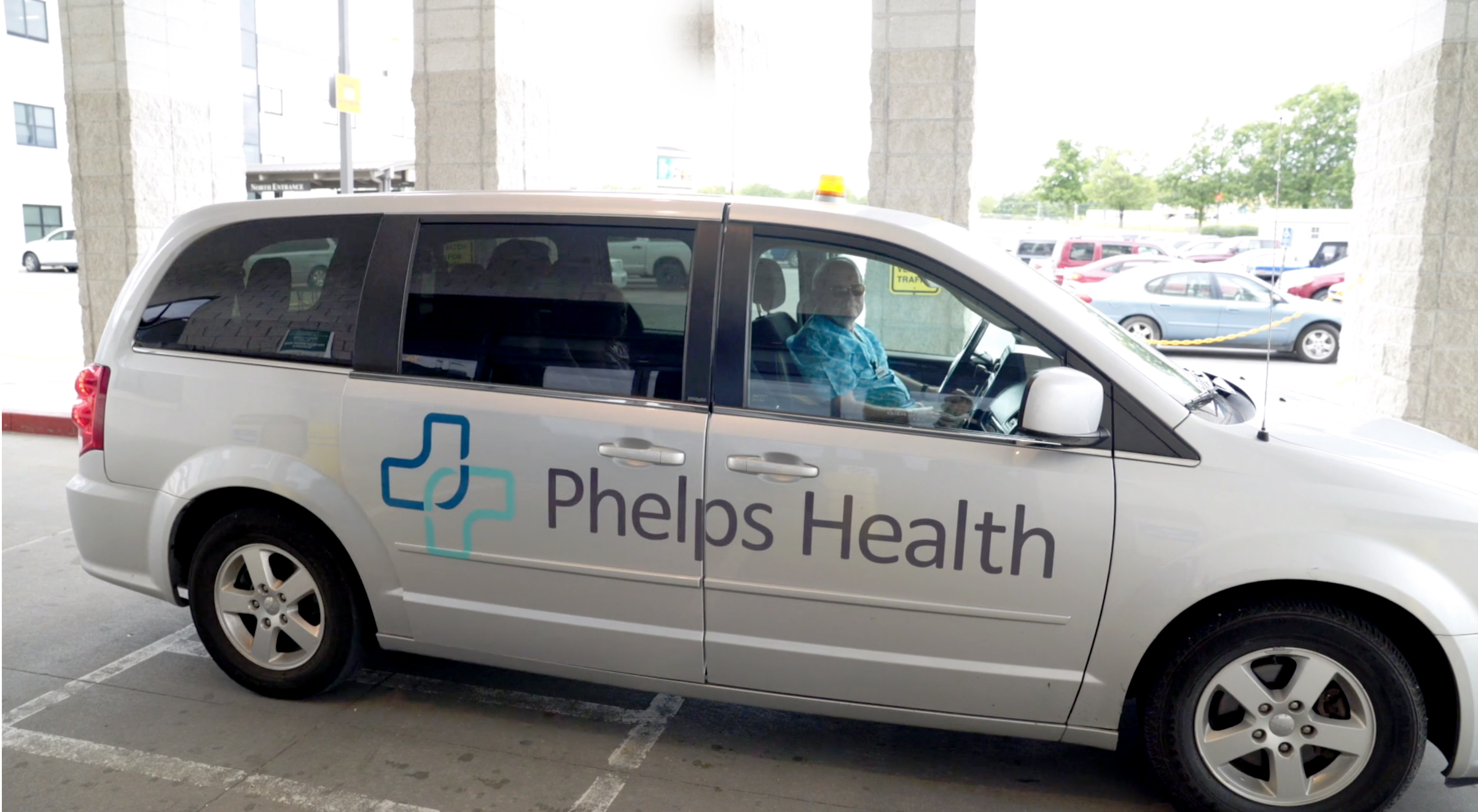 Free to Patients
The Phelps Health patient transportation service is provided free to area patients, thanks to the generosity of Phelps Health, with the assistance of the Phelps Health Foundation and Phelps Health Auxiliary and Volunteer Services. The Phelps Health Foundation's Patient Transportation Program provides transportation to patients to necessary healthcare appointments and treatments. This fund helps purchase vans, provide ongoing maintenance and obtain other needed equipment.
How Phelps Health Courtesy Vans Can Help
Phelps Health courtesy van drivers will travel to any patient within a 30-mile radius of the medical center in Rolla, Missouri. The program helps patients who otherwise would not have the means or resources to get to their appointments.
As a Patient Using This Service, Follow These Guidelines:
Be ready at your designated pickup time.
Know your appointment times and location.
No pets are allowed in the vehicles, except for service animals.
Bring only what is necessary for your appointment.
Phelps Health courtesy vans will NOT make additional stops. Drivers will only take you to and from your appointments.
Do not bring along any unnecessary, additional passengers. Phelps Health courtesy vans may pick up more than one patient at a time.
If you are bringing a child, please call (573) 341-8278 for arrangements. For safety reasons, Phelps Health limits transportation of young children.
If you must cancel a pickup, please do so at least 24 hours in advance. The drivers are scheduled to pick up and drop off patients in a five-county area, and late cancellations affect the ability to provide this service to others. This service may be terminated for patients who cancel three times or do not show up as scheduled.
Last-minute service requests may not be possible.
Phelps Health courtesy van drivers cannot accept tips. However, you may request a Guardian Angel nomination envelope (from your driver) and recognize your driver's exceptional service through the Phelps Health Foundation.
Ride Reminders
If you would like to receive a reminder of your transportation appointment by text or email, please email OSTPatientRequest@phelpshealth.org.
Meeting Your Needs
Phelps Health has wheelchair accessible vans. Please give at least three days' notice (72 hours) before scheduling a pickup. The courtesy vans are available Monday through Friday from 7:00 AM to 3:00 PM.
Schedule a Ride
To see if a van is available on the date of your appointment, please call the Phelps Health patient transportation message line at (573) 341-8278.
Happy Hauler
Need a ride on the Phelps Health campus? Call the Phelps Health Happy Hauler courtesy van at (573) 202-3880. This free service is available to patients and visitors, Monday through Friday, from 7:30 AM-4:00 PM.
patient transport, patient rides, free transportation, hospital transportation, patient rides, courtesy van, shuttle, hospital shuttle, hospital van