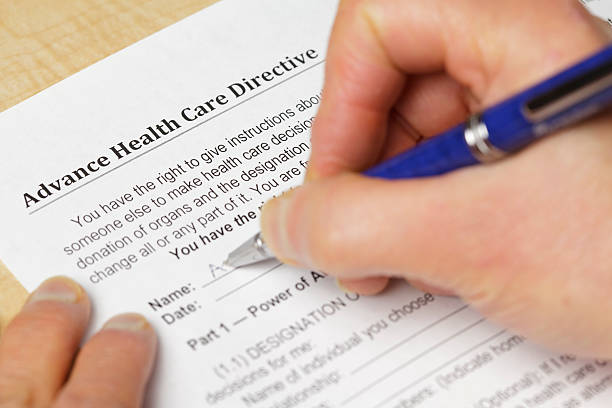 Advance care planning is the process to help you with healthcare decision-making in the future.
How can advance directives help?
Advance care planning, including advance directives, can help you iden­tify what healthcare measures you want in case you are not able to make decisions. Planning also can help you appoint who you want to be involved in your care.
What do advance directives do?
Communicate your healthcare pref­erences when you lose the ability to make your wishes known
Ease your family's responsibility and stress to make difficult decisions
Assist your doctor by providing guidelines for your care
Specify decisions from withholding or withdrawing life-sustaining treatment, including food or water
What are the different types of advance directives?
Below are three types of advance directives for anyone 18 or older who is legally competent to make his or her own decisions:
Statutory Living Will
This document directs "death-prolonging" proce­dures to not be used to keep a person alive when a terminal condition exists.
Health Care Directives
This document directs what conditions (medical or otherwise) for when a type of treatment is ad­ministered or withheld, including food or water. Instructions must be clear, and this document allows more flexibility in wishes.
Durable Power of Attorney for Health Care Decisions
This document appoints an agent to make deci­sions and describes authority that the agent has.
Other: TPOPP/OHDNR
Transportable Physician Orders for Pa­tient Preferences
Out of Hospital Do Not Resuscitate
Ask your doctor about these forms, as they are for specific situations.
How can I create an advance directive?
If you would like more information or help in creating an advance directive or have any questions, please contact the care coordi­nation team at Phelps Health.
Be sure to discuss your wishes with your family and physician. Putting your wishes in writing is the only legal way to ensure they are respected.
If you have an advance directive or any ad­vance care planning document, keep a copy with you, and present the document to your doctor and at any hospital visit.
The Patient Self-Determination Act
The federal Patient Self-Determination Act (enacted in 1990) addresses the rights of healthcare (including mental health) users to stipulate in advance how they would like to be treated by healthcare providers when they are incapacitated. The Patient Self-Determination Act does the following:
Recognizes the Living Will, Health Care Directive and Durable Power of Attor­ney for Health Care Decisions
Requires healthcare facilities to ask patients whether they have advance directives
Requires healthcare facilities to provide educational materials advising patients of their rights
For more information on the Patient Self-Determination Act, visit nrc-pad.org.
advance directive, living will, ​advance care planning, advanced directive, decision-making, make decisions, advance directives, Statutory Living Will, living will, living wills, Health Care Directives, healthcare directives, Durable Power of Attorney for Health Care Decisions, durable power of attorney, power of attorney,