DISCLAIMER: All information on this page is meant to be used by healthcare workers and not the public. As the COVID-19 situation changes daily, please note the date of these documents and check them against current knowledge and standards.
This site is a resource for all Phelps Health employees. Keeping you informed and updated about COVID-19 is our priority. Below you will find documents that have been sent out or created regarding COVID-19 from Phelps Health. This page will be updated frequently with policies, letters and other releases to keep all staff informed. Internal memos will be posted to the employee portal COVID-19 page.
COVID-19 Vaccination
*Important Update to CMS COVID-19 Vaccination Requirement*
On January 13, 2022, the US Supreme Court overturned the temporary hold on the CMS Omnibus COVID-19 Health Care Staff Vaccination Interim Final Rule, requiring healthcare workers to be vaccinated.
The Centers for Medicare and Medicaid Services (CMS) has required all employees at healthcare organizations who participate in Medicare and Medicaid to be vaccinated against COVID-19 or provide proof of exemption. Since Phelps Health is regulated by CMS, we are required to follow the agency's guidelines.
Learn more here: https://bit.ly/3tG0b9p
While booster doses of COVID-19 vaccines are not required, Phelps Health Occupational Health and Wellness must report the number of employees who have received boosters. If an employee received a COVID-19 vaccine booster somewhere else besides Occupational Health, they should report their booster doses to Occupational Health.
Work Restrictions for Healthcare Personnel With COVID-19 Exposure/Infection
(Updated: April 11, 2022) The CDC has provided interim guidance for managing healthcare personnel with SARS-CoV-2 infection or exposure to SARS-CoV-2, the virus that caused COVID-19.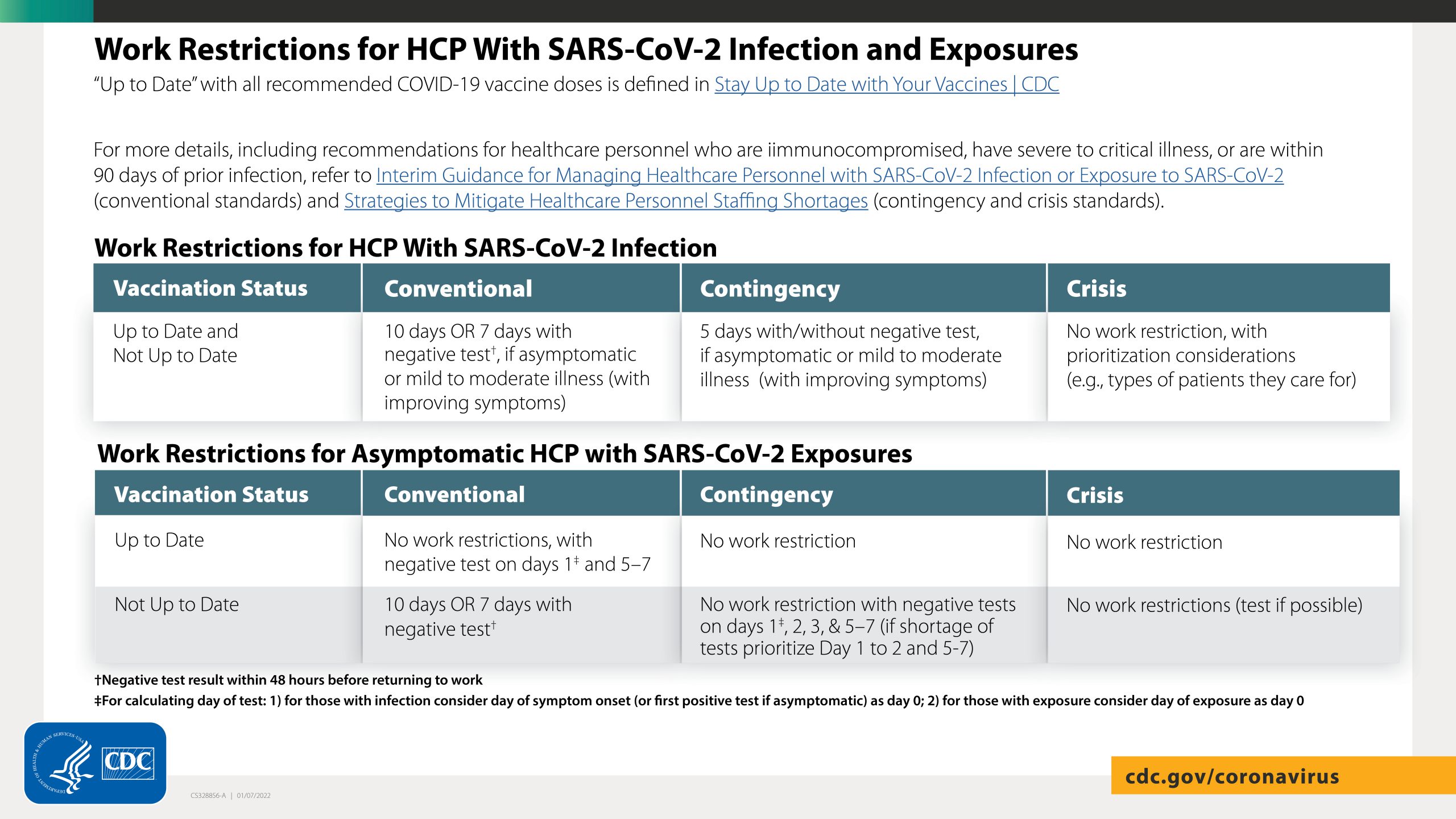 Video Resources
COVID-19 Vaccination and Fertility with Dr. Nathan Ratchford
Phelps Health employees answer why they got the COVID-19 vaccine
COVID-19 Vaccine Questions with Dr. Cory Offutt
The Different COVID-19 Vaccines with Dr. Cory Offutt
COVID-19 Vaccine Q&A with Aaron Cohlmia, FNP
Why You Should Get the COVID-19 Vaccine with Dr. Brian Kriete
Safety and Speed of COVID-19 Vaccine Rollout with Dr. Brian Kriete
 
Policies
Visitor Policy (Updated June 2, 2022)
Please note: Effective June 2, 2022, for employees who test positive for COVID-19, are awaiting test results or are symptomatic and cannot work must use their PDO (Paid Days Off) before using their Special Sick Leave (SSL) time.
for employee, phelps health employee, employees, employee forms, employee covid