The following Missourians are eligible to receive a booster dose.
28 days after their initial two-dose series of Pfizer or Moderna:
People aged 16 years and older with moderate to a severe immune compromise due to a medical condition or recipe of immunosuppressive medication or treatment. Learn more.
or six months after their initial two-dose Pfizer series based on new CDC guidance:
People 65 years and older and residents in long-term care settings should receive a booster;
People aged 50–64 years with underlying medical conditions should receive a booster;
People aged 18–49 years with underlying medical conditions may receive a booster; and
People aged 18-64 years who are at increased risk for COVID-19 exposure and transmission because of occupational or institutional setting (e.g. frontline medical workers, teachers, first responders, grocery store workers and corrections workers)
The list of medical conditions categorized as high-risk by the CDC is available here. Missourians with an underlying medical condition are encouraged to speak with their healthcare provider about whether a booster vaccine is right for them.
Federal health experts are still reviewing data from Moderna and Johnson & Johnson (Janssen) and will decide when recipients may be eligible for a booster shot. Missouri providers will be ready to administer Moderna and Johnson & Johnson booster shots when they are recommended.
To learn more, please see the latest health order regarding booster vaccines from the Missouri Department of Health and Senior Services.
Where Can I Get The COVID-19 Vaccine?
Phelps Health and Sinks Pharmacy are working together so that you can receive the COVID-19 vaccine at a time and place that is most convenient for you. 
To schedule your COVID-19 vaccination, you can call any of the Sinks Pharmacy locations listed below to schedule an appointment to get your vaccine.
Phelps Health is offering Pfizer COVID-19 vaccines for adolescents ages 12-18 at the Pediatrics Clinic in Suite 300 of the Medical Office Building at 1050 West 10th Street in Rolla. Call (573) 426-3225 to schedule a COVID-19 vaccine for your child ages 12-18 today. A parent or guardian must sign the consent form at https://bit.ly/3ixjNoX and be present with their teen when the child is vaccinated.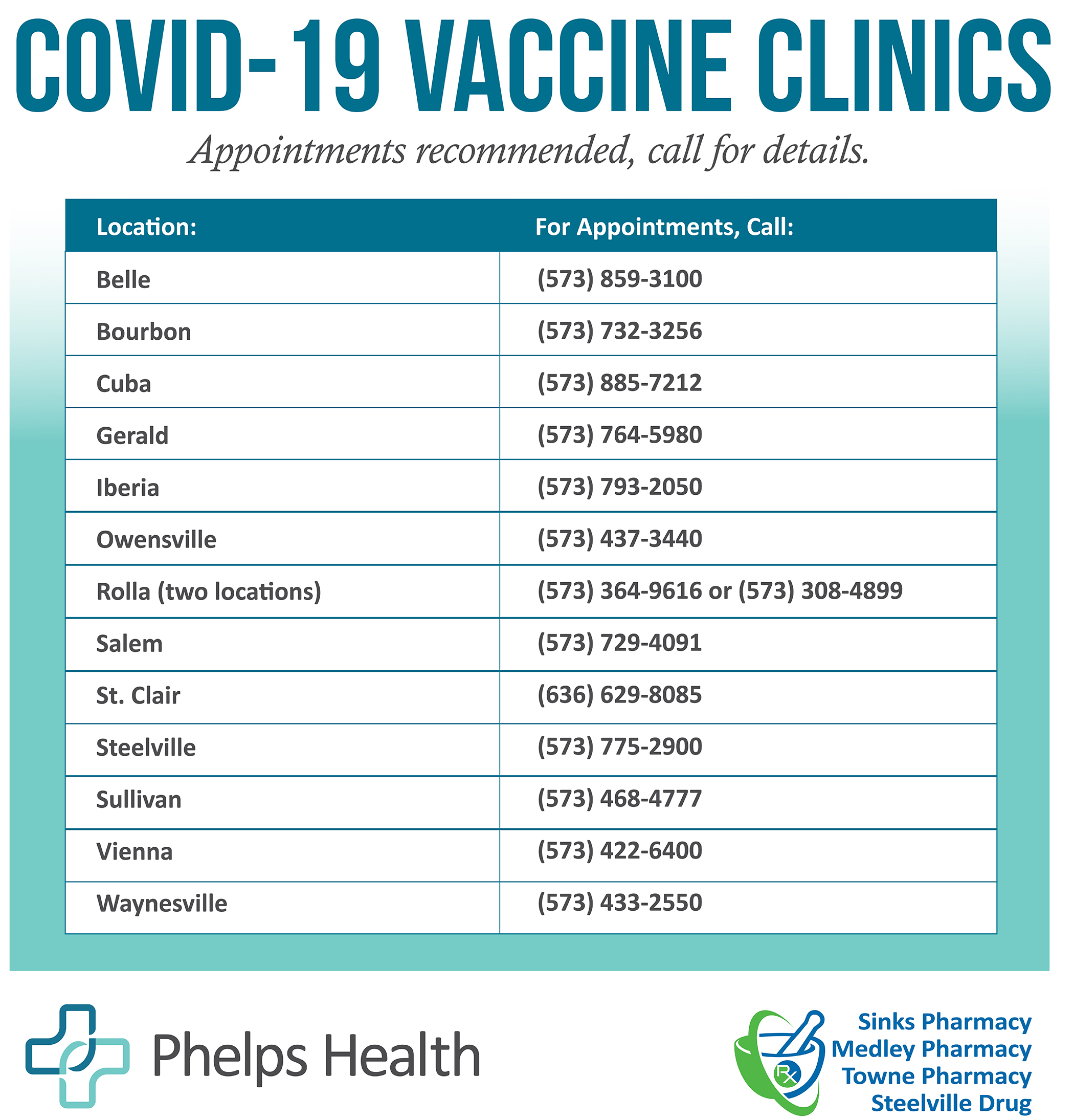 Is the COVID-19 Vaccine Safe?
Safety is incorporated into every level of a vaccine's development cycle. COVID-19 vaccines are safe and effective. COVID-19 vaccines were evaluated in tens of thousands of participants in clinical trials and over 357 million doses of COVID-19 vaccine have been given in the United States from December 14, 2020, through August 16, 2021. Learn more about safety here. 
"It [the COVID-19 vaccine] is very safe. It is actually even considered somewhat safer than a large number of other vaccines we have on the market because there is no, absolutely no, live virus used in the making of the vaccine at all." -Cory Offutt, MD, family medicine physician at Phelps Health
Vaccination Process


After getting the vaccine, be mindful of any side effects. Most side effects will be mild and go away in one or two days. If side effects worsen or persist, contact your provider.

The CDC recommends that you sign up for v-safe, a free, smartphone-based tool that uses text messaging and web surveys to provide personalized health check-ins after you receive the vaccine. V-safe also reminds you to get your second dose. 

In order to develop the highest level of protection against COVID-19, individuals should return for their second dose of the Pfizer-BioNTech vaccine at 21 days or the Moderna vaccine at 28 days. Please bring your COVID-19 Vaccination Record Card with you for your second dose. The Janssen vaccine is given as a single dose.
Helpful Links
COVID, COVID-19, Coronavirus, virus, health, sick, flu, treatment, testing, vaccine, COVID-19 vaccine, shot, covid, covid19, first dose, second dose